The new ranch we are farming on in Buellton used to be an Icelandic Pony ranch. Nothing was growing here before we came, but the horses were definitely leaving a lot of compostable materials that are benefiting our crops now. We don't have a lot of leafy greens up here because it runs about 10 degrees hotter here during the day. I see lots of spaghetti and butternut squash, onions, garlic, melons, tomatoes, cucumbers, zucchini and other summer crops. We are also fortunate enough to have over 100 boxes of bees from San Marcos Ranch on the farm. The bees bring a lot of good vibes to the farm to say the very least. I catch swarms of them up in trees and buzzing through crops. Check out some recent pictures I took of the farm today.

Lot's of tomatoes coming our way.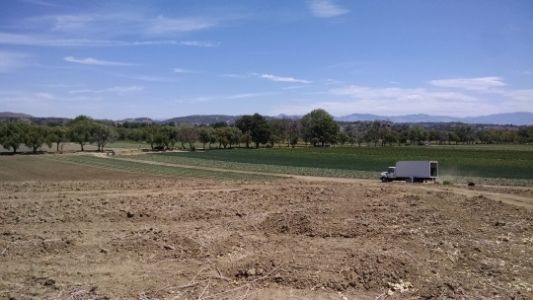 A view from the top of the hill where our orchard will go.
https://i36.photobucket.com/albums/e33/carolyneliz/Mobile%20Uploads/IMG_20150629_115651146.jpg
Boxes and boxes of glorious bees!

The center road of the farm is lined with trees creating shade for the workers, the chickens and makes for a beautiful picture.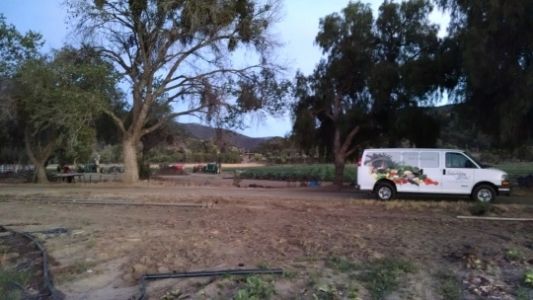 The CSA van doing a little off the clock work hauling overgrown produce to chickens.
We have lots of eggs in our CSA store right now. Check them out for only $4/dozen. I anticipate the quantity of eggs to continue to increase throughout the summer so you should see them in our CSA store moving forward. Please feel free to check in with me if you don't see them available.
Cindy Dollar has added a new addition to her granola line up. Try out the new flavor Blueberry Almond! You can also choose from cran-cashew, raisin pecan or coconut seed. Don't forget about the fresh baked cookies. Perfect for a weekend BBQ.
CSA Box Contains:
CARROTS
RED LEAF LETTUCE
FRENCH GREEN BEANS
PABLANO CHILE PEPPERS
GREEN ZUCCHINI
ACORN SQUASH
BABY SPINACH
STRAWBERRIES
RED AND YELLOW CHERRY TOMATOES
CILANTRO
BIG BOX ADD: CARROTS, STRAWBERRIES, CUCUMBERS, GREEN BELL PEPPERS, LACINATO KALE
Continue reading →